Eagles fall to last place in PacWest
Eagles fall to last place in PacWest standing with Saturday's loss to Douglas College Royals 81-56.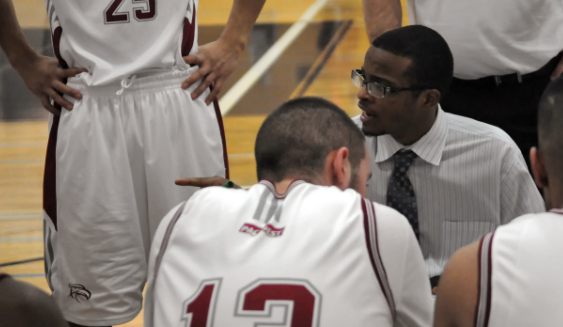 The Kwantlen Eagles' men's basketball team fall to last place in PacWest standing with Saturday's loss to Douglas College Royals 81-56.
By Brian Jones
[associate sports editor] 
Waiting in the hallway outside the classroom that Douglas College has designated for visiting basketball teams, it's more quiet than usual.
The Kwantlen men's basketball team is inside that room. They've just suffered an 81-56 loss to the Douglas Royals and have moved into last place in the PacWest standings.
In terms of point differential, it's not their worst loss of the season – that happened the night before at Langara College where they came out on the wrong end of a 104-77 result.
But that loss against Langara doesn't have the same feeling as this one. Douglas wasn't undefeated, they weren't nationally ranked, and they didn't have the most potent offense in the province.
They were beatable, very beatable. And that's why this loss is different.
A small gathering of parents and friends wait at the end of the hallway, just outside the gymnasium. They chat about other scores around the league, about the commute to watch the game, but not much about what happened in the game itself is discussed.
It's been about five or 10 minutes, and a small cheer and some clapping slips through the cracks of the classroom door. Players emerge in no particular pattern, making a quick trip across the corridor to the washroom. The first Eagle to come out is team captain Ali Bosir.
In the game against Langara the night before, Bosir had 27 points. The game before that he had 26 points and 18 rebounds, and the game before that, he had 41 points and 18 rebounds.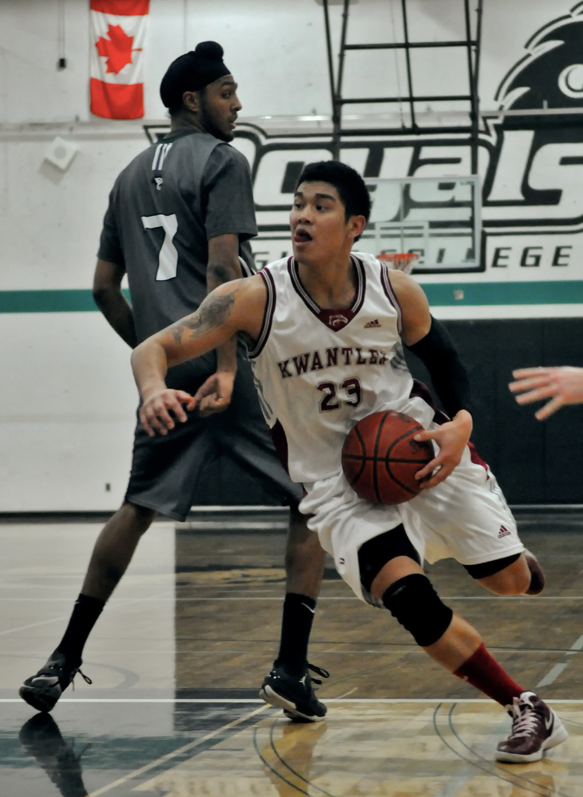 Monster numbers. Numbers good enough to earn him Player of The Week honours.
Tonight he finished with two points in only 10 minutes of action. Bosir played sparingly in the first half due to foul trouble in what was an incredibly tightly-called game. In the second half, it wasn't long before he picked up his last two fouls and was forced to sit and watch his team flounder without their superstar.
Just two weeks earlier, after that 41 point 18 rebound game in a loss to Capilano, Bosir told me, "[The numbers] don't mean anything to me. Honestly, I'd trade it for a [win]. Individual stuff doesn't faze me anymore, maybe in your first couple of years of playing. But now? I'm all about making playoffs."
Always somewhat cheerful and optimistic after tough losses, Bosir walks towards the washroom without saying a word. A minute later he goes back into the team room, and is one of the first Kwantlen players to grab his bag and exit. There are no signs of the giant smile that usually manages to escape his face once he sees familiar faces in the hall waiting for him.
I can tell right away that right now is not a good time to stick a recorder in front of him.
A few more players exit and I can see head coach Stefon Wilson in the back of the room. We make eye contact and he motions me in. Despite the cloud of depression that hangs over most in the room, Wilson remains composed, lighthearted and animated. He constantly preaches the necessity of having a short memory after both victories and defeats – plainly and effectively explaining that "a loss is a loss and a win is a win."
The Runner: Is this one of those "what can go wrong will go wrong" kind of nights?
Stefon Wilson: Yeah. When you've got a really good player and you're used to him playing 30-plus minutes and he's a 20 [point] and 20 [rebound] guy, and then he doesn't produce – it's going to get ugly.
We always feed off of him, and off of his intensity, and when he's not there, this happens.
TR: When Ali's out, especially for extended periods like tonight do you have confidence in your second unit?
SW: It's not about that. You can ask any coach 'How are you going to do without your best player?' I don't care if it's the worst team or the best team – the team is going to look different. Then people just need to step up. I mean we didn't shoot the ball well. It's not like we didn't get good looks, we just didn't knock them down. That's what I saw at least, maybe when I review the tape I'll see differently.
But when they don't fall, there's nothing you can do about it. It's just one of those games.
TR: Is it a good thing that this loss came at this time, now that you have six home games in a row next?
SW: Yeah we're definitely excited about the six games in a row at home. But before we focus on scouting reports, or look at VIU or Camosun, we need to look at ourselves and focus on getting better as a team.
When we're still not making easy buckets, when we're still not making free-throws. We have to fix these things on Monday and Tuesday before we even look at the weekend games.
TR: Is Ali the type of player that will soak in this loss and carry it around in his head for a while, or is he a mature veteran who will just write it off?
SW: It's his fourth year, and he understands that he can't let it linger around in his head. Maybe if he was a talented freshman, I'd be worried, but he's not. It's his fourth year, his second with me, and he's a tough kid. He's played well all season. I'm going to be honest, he's just had one bad game.
But it's not him that I'm worried about, it's the team.
—
The Eagles are set to host both island teams next weekend, the Camosun College Chargers and the Vancouver Island University Mariners. Camosun first on Friday at 8 p.m., and VIU the following afternoon at 3 p.m..