Eagles succumb to number-one ranked Falcons
The Kwantlen men's basketball team loses to number-one ranked Falcons 104-77 Friday.
The Kwantlen men's basketball team loses to number-one ranked Falcons 104-77 Friday. 
By Brian Jones
[associate sports editor] 
Everybody loves Fridays.
The workweek has ended, school put on hold for the weekend and Rebecca Black is cruising around in a convertible.
Everyone loves Fridays.
Except for the Kwantlen Eagles men's basketball team.
After last night's 104-77 loss to the Langara Falcons, the Eagles are now 1-7 on the opening night of each weekend's double-header.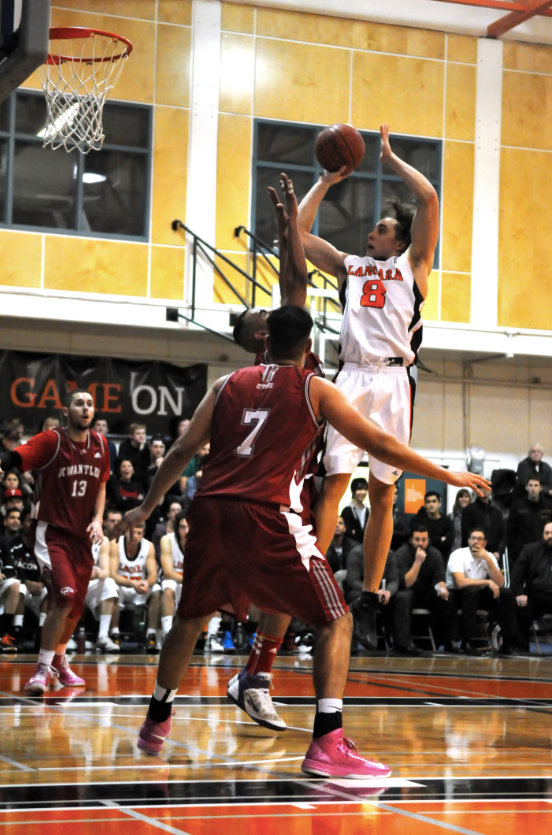 "We haven't had the same urgency on Fridays as we have on Saturdays," said head coach Stefon Wilson after the loss.
"But that's our league. You have to have a short memory. It doesn't matter what happens on Friday, you have to play Saturday."
I asked Wilson if his squad has typically done better on the second night of the back-to-backs because they've been inspired to play harder after a loss.
"I think that would be a good question for a player to answer," responded Wilson. "I hope that if you lose, that if gives you an extra boost – but I'm going to coach the same way.
"I can't get out there and play defense."
The Falcons, ranked number one in the country, definitely played like it.
Point guard Brody Greig tore apart the Eagles' defense without hesitation – leading a blur of a fast-break on transition, yet also surgically destroying Kwantlen with his playmaking abilities that make him appear as if he's four or five steps ahead of his opponents.
Greig finished with just four points, but padded his league-leading assist numbers with 17 dimes as well as nine steals in the win. Shooting guard Matt Madewan led the Falcons in scoring with 28 points – 18 of them from beyond the arc.
Ali Bosir, the Eagles' 6-6 workhorse who went for 27 points and nine rebounds, has a clear idea of what a Friday-night loss means to him.
"We just got to out and spank Douglas," said Bosir. "Just from the beginning. First quarter go up by 15, 20 points."
Second-year guard Aaron Ram matched Bosir with 27 points for the visitors, but no other Eagle player reached double-digits.
Tonight's match is where Wilson's idea of "short memory" comes in to value, as Kwantlen looks to shake off the Langara beating and face the Douglas College Royals to see who can climb out of the bottom of the PacWest standings.
Kwantlen and Douglas are among four teams in a tie for last place, each with a record of 4-8.
"I think we are getting better," said Wilson. "But lets gauge it after tomorrow's game. I don't think you can look at Friday and say 'we got to do this or we got to do that', but I think after the weekend is done we'll be able to say 'this is what we have to do better or this is how we need to get better.'"
—
The Eagles are 3-1 on Saturday night games, and beat the Royals at home in their previous matchup back on Nov. 17, 90-85.
Tip-off is set for 8 p.m. at Douglas' New Westminster campus.