The Runner renews sports section
The Runner renews its sports section as Brian Jones joins the team as our new associate sports editor.
The Runner renews its sports section as Brian Jones joins the team as our new associate sports editor.
By The Runner
It's come in waves.
Since The Runner launched its inaugural issue in February of 2009, sports has made its appearance as a ghost subsection in our publication.
We're pleased and privileged at The Runner to announce the renewal of our commitment to covering collegiate sports at Kwantlen with the appointment of our new associate sports editor, Brian Jones.
Watch this space as Jones and other contributing sports writers post game reports from games, and run an in-depth analysis and features in our print edition.
About Brian Jones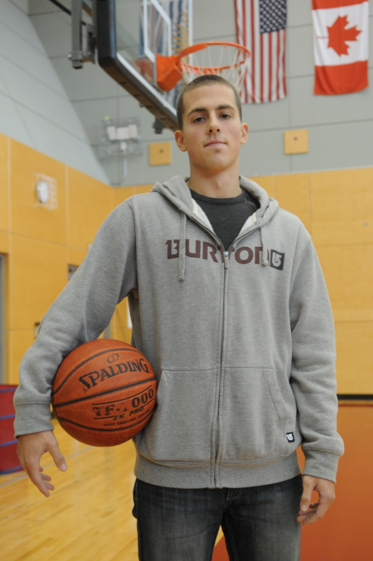 Brian Jones would call it an obsession.
The 21-year-old journalism student at Kwantlen Polytechnic University is honest about his sporting loyalties.
"Since I was three or four years old, it was always basketball."
On his twitter profile (@bjonesbc) he even writes, "has been known to take out student loans for NBA tickets." Satire, we presume.
A former high school basketball player at Elphinstone Secondary School in Gibsons – a town of roughly 4,200 off the Strait of Georgia – Jones arose from a prominently hockey-oriented family. His older sister even played captain to the women's hockey team at Wayne State University in Michigan.
"My parents probably would have gotten me into hockey … but I just found basketball right away and it's stuck with me."
Jones started as a sports writer between trips to his high school basketball games. He'd read game reports in the Coast Reporter – a community newspaper in the Sunshine Coast. There would be no by-line.
"My coach said, 'I write them. You think you can do a better job? And he gave me his laptop […] '"
Jones became his team's basketball correspondent and a contributing sports writer at the paper.
"It still doesn't feel like it's doing a job or anything – it's fun."
Beyond the Bleachers
In November of 2011, he launched Beyond the Bleachers – a sports blog covering all things basketball in the Lower Mainland.
"I realized this last year when I started going to games, no one covers basketball," Jones said of media coverage of the sport in the Metro Vancouver, noting that while the community newspapers will follow teams, he finds there isn't consistent mainstream coverage.
Jones has become something of a regular within the Pacific Western Athletic Association. Through his blog, he has come to cover and discuss various stories surrounding PacWest, the Canadian Interuniversity Sport, the National Collegiate Athletic Association, the National Basketball Association, and the local high school basketball scene.
The goal with his sports reporting, Jones said, "Just to show there is good basketball at this level. I just love bringing the stories to people who would have never known an athlete this small school that has done this or has this background … I couldn't even count in my head right now how many good stories are out there."
On the Kwantlen beat
Having spent the last semester in Southeast Asia, Jones returns to collegiate sports scene eager to re-examine Kwantlen's approach to athletics.
Last fall he examined the way in which Kwantlen's men's basketball team was churning through its system season after season.
"In order for a team to gain a supportive following and a decent fan base, they need to win – or at least give those potential fans something to get excited about," Jones said. "The culture of athletics at Kwantlen is going to remain the way it is unless multiple teams become consistently successful.
Whether by obsession or for profession, Jones will be back watching – consistently.